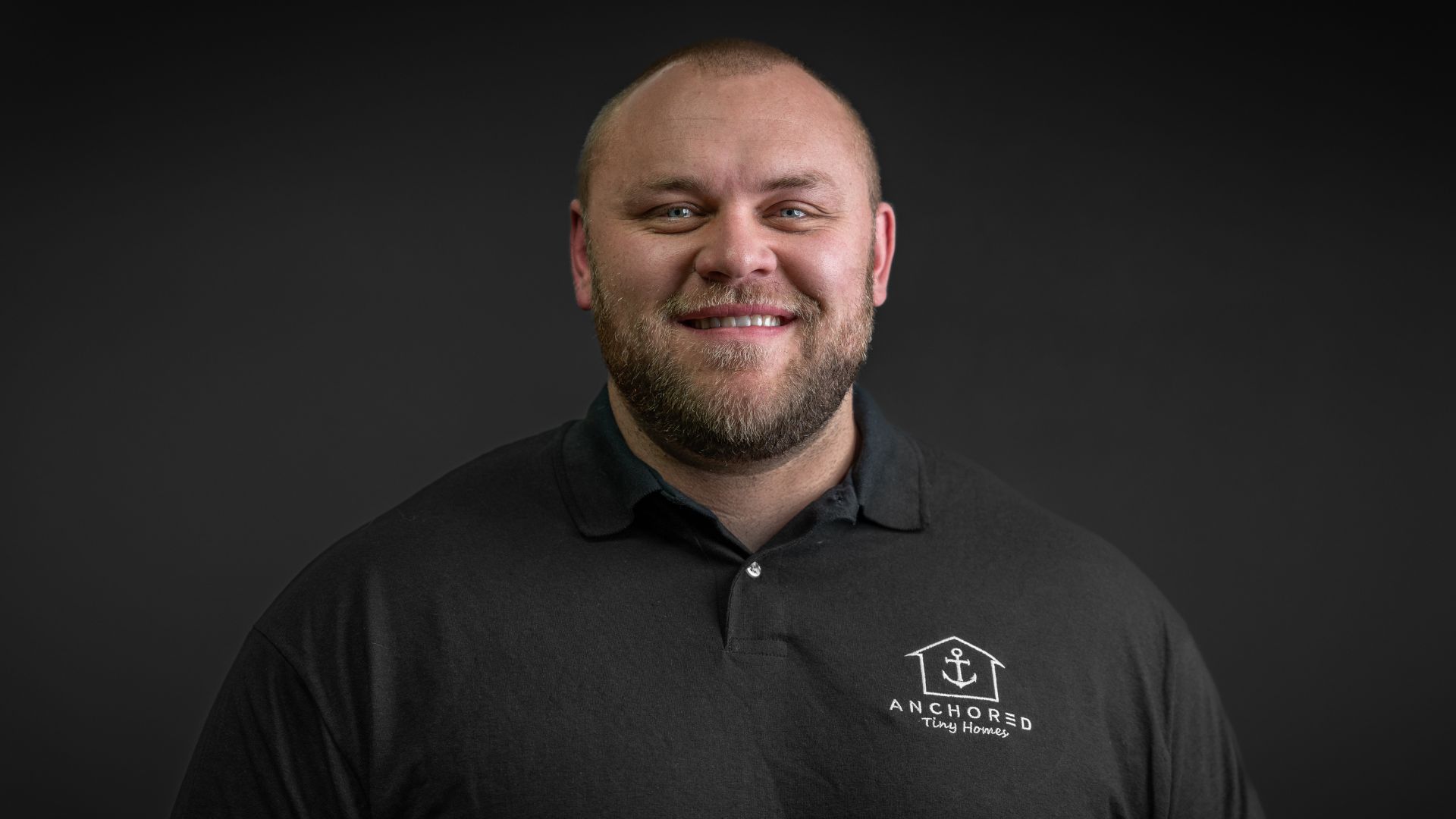 Anchored Tiny Homes

EXECUTIVE Q&A
1851 Franchise: How did you get started in this business?

Colton Paulhus: I'm the CEO and Co-Founder of Anchored Tiny Homes. This is a family business that we started in 2019. My dad has been a general contractor for 33 years now, so he's built garages, sheds, custom homes…all kinds of things. The idea came when I saw an ad for tiny homes on wheels on Facebook. I actually went to my dad and asked if he thought we could build tiny homes. He said he didn't see why not, so I threw a listing up on Facebook marketplace, and within three days, we had about 300 inquiries from people wanting tiny homes. That was when I knew there was potential in the market.
We sold two tiny homes within the first month, and then it just took off. We actually pivoted from tiny homes on wheels to ADUs (accessory dwelling units) in about 2021.
1851: Before this moment happened, what was your story? How were you connected to entrepreneurship?
Paulhus: I've always been "in the game." I played division one football for Colorado State and transferred to Weber State. After college, I worked for Farmers selling insurance. I always felt this itch to try something — to get in the game of entrepreneurship. I actually started a mobile app where we would connect influencers to clients for fitness and live streaming. We had some subscribers, but it didn't really take off like I wanted it to, so we pivoted and launched a clothing line. I started a water bottle company, then a marketing company. I was just trying to find my niche and something that would take off. Then, when Anchored Tiny Homes took off, I quit all of those other things to hone in on this business.
1851: After you had these early successes, and as you, your dad and your brother were figuring the business model out, how fast did franchising come into the picture?
Paulhus: When we first started, we were just a local business making mistakes, trying different things and really figuring everything out. I actually had a client reach out, and he was part of a company by the name of FMS, Franchise Marketing Systems, and he wanted an ADU. He told us that we had something really special and asked if we had ever thought about franchising. That was when the wheels started turning.
Of course, that night, I stayed up all night long looking at franchising, and within a few days, we hired Franchise Marketing Systems to build out our operations manual and a few other things to get us into franchising.
I've always had big dreams. I've always known that, when I found the right thing, I was going to take it nationally and globally. When I heard of franchising, what I found most intriguing was the idea that we would be partnering with really cool people to build our brand. People buy into the franchise, and I get to lead them, coach them and teach them the business. They're awesome people who are motivated to change the world, just like I am, and I thought that was a really cool leadership opportunity in addition to being a fulfilling way to partner with someone.
1851: You have engineered a business that is lower on the entry point and higher on the potential return, which tends not to exist in franchising. Tell us a bit more about the mindset that is going on behind the scenes of the business opportunity.
Paulhus: The number one thing is that we are on a mission to solve the housing crisis. That's where it starts. There's a huge need across the country for housing. In every market, really, it's just something that isn't easily available and affordable.
We start with the mission. After that, we have to consider the potential of each sale. In most markets in California, for example, you're looking at $200,000 to $250,000 for an ADU. The earning potential on the product is huge. You don't have to make a lot of sales, unlike at a burger place, to get to a high sales number. If the franchisee can figure out how to sell the product, which we provide support for, the earning potential is huge.
1851: In plain terms, what is the investment level? How much did the corporate location do?
Paulhus: The investment is in the $100,000 to $200,000 range, and in 2022, across 10 territories, the corporate team did $49 million.
1851: With an investment range and potential ROI of that amount, you need to be super protective of the culture and make sure the candidates are actually engaged in solving the housing crisis and not just interested in the shininess of the $49 million. Do you have an internal North Star?
Paulhus: Yes, we have an approval day. When someone is really, really interested, we have an approval day where we spend a full day with the candidate: breaking bread, running through the process and asking them a bunch of questions. Then, at that point, we determine if they're going to be a good fit.
It's a little bit different than most businesses where they're trying very hard to recruit. We've had a ton of demand already, so we're trying to figure out who is going to be the best fit.
1851: Do you ever run into people who just don't believe that there's any way you could do $49 million?
Paulhus: Oh, absolutely. All the time. But we're not making any promises that the franchisees will do that much. It's up to them. They can market and sell as much as they want, but that number does create a lot of skepticism.
The thing is, in most markets, there's a big demand for this. Nobody in the industry is franchising, so we're going to get the first mover advantage. We're going to become the brand nationwide.
1851: I would imagine that the $49 million in revenue does not include a lot of repeat business, and you're constantly having to build up new relationships. How will you support franchisees in keeping a steady business stream?
Paulhus: That's right. You don't need to do the volume that we're doing at the corporate level to have a good business that makes good money and provides for your family. But, what's really cool is that, at the corporate level, we're taking care of all of the marketing, lead generation and even booking appointments for them. That's what's so different with us compared to other franchisors. We've essentially built this marketing machine; we know how to market, and we can teach franchisees how to sell.
1851: What are your points of differentiation in terms of marketing and technology?
Paulhus: From a support standpoint, we take care of the branding and marketing. That's our number one skill set. Then, from the operations side, we have a full manual that breaks down, step-by-step, how to build an ADU from start to finish.
1851: What about hurdles from a customer standpoint? When we're talking about a tiny home, the cost is far less than a regular single-family home. Does the customer ever come into a place where they struggle with financing?
Paulhus: I would say yes and no. Most of the time, what's happening is that our clientele is either the investor that has cash or a family that is looking to be united on a single property. With families, a lot of the time, kids move back home after college or aging parents move in with their adult children, because they're deciding between buying a $600,000 to $800,000 home or building an ADU in the backyard.
If they already have equity in their house, they're able to do a home equity line of credit or a cash-out refinance. We also have two major companies that we partner with nationwide that specialize in ADU financing.
1851: So that's another check mark. You've solved that. Looking back in the business, what's the blind spot, and how are you addressing it?
Paulhus: Financing had been a huge issue, but now, there's a company by the name of RenoFi, and we've really figured out how to vet people to see if they're going to get qualified. They have to have equity in their house, and they need to be able to pull that equity out. That's a big bottleneck.
The other thing that people would struggle with is recruiting local general contractors or local labor to actually build the unit. We've developed a process where we can mass market to local general contractors to help recruit labor in each local market.
1851: Why Anchored Tiny Homes, and why now?
Paulhus: I think there are times in culture where, if you can join something early on, you can make a massive impact and a lot of money. I think we're early on enough, both in the industry and as a company, that there will be opportunity in different markets.
We're on the ground floor of us really solving the housing crisis. Multiple states are approving ADUs on a state-wide level, and I really think that, as we get into this, markets are going to sell out quickly. We're going to take over the country from a franchise standpoint. You have the opportunity to be the first mover in your market.
Learn more about franchise opportunities at https://anchoredtinyhomes.com/franchise